Our company is not only provided with the up-to-date technology for wine cellars but does also dispose of the professional know-how for viticulture which is transmitted from generation to generation with care and responsibility.
On the one hand this know-how about wine and viticulture goes back to traditions and experiences, on the other hand it is well-founded on education, actually the training of young vintners in the HBLA u. BA (high school ) for viticulture and fruit growing located in Klosterneuburg (Lower Austria) which enjoys an excellent reputation in Austria.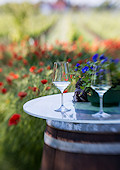 All along openness and interest were prerequisites for success in this business. The philosophy of our company includes the assimilation of new knowledge, thinking about it and finally trying it on our own estate. For us it is not the quantity which is important but what counts is solely the quality of our wines and brandies.
The production of our excellent products requires not only technical know-how and skill but also a high level of care and even more love and enthusiasm which are finally reflected in our top-quality wines. The vinery Hauleitner is located in Wagram ob der Traisen next to Traismauer. The guideline of this vinery says: "to drink is a need, to enjoy is an art". The spectrum of varaities is leaded by the Grüner Veltliner (Wagramer Terrassen, Sonnleithen, Rosengarten, Venusberg, Selektion Setzen). The vinery also produces Riesling, Chardonnay, Weißer Burgunder, Rivaner, Gelber Muskateller and a small choice of red wines (Zweigelt, Cabernet Sauvignon, Merlot, Syrah). The selected wines are affected by and focussed on their origin (Traisental DAC u. Traisental DAC Reserve). To press clear and authentic wines is their major priority. In the foreground there are mineralic and fruit species.
Herwald Hauleitner junior got a lot of awards for his wines in the last years which beard him out in his work. The greatest sucesses of the young wine maker are the Salon award with the Grüner Veltliner Selektion Traisental DAC Reserve 2008 and the Riesling Selektion Traisental DAC Reserve 2008 as well as the first place at the FALSTAFF Grüner Veltliner GRAND PRIX 2009.
The cultivation and working method in our vineyards and orchards are very close to nature and it allows us to produce and to offer excellent wines fit for wine connoisseurs.